Our number one tip to improve your English quickly? Read a book!
Why is this so important?
Reading introduces you to so much new vocabulary.
Reading helps to improve your prepositions and articles – we all know how hard they can be!
It also improves your sentence structure, punctuation, and spelling.
What can I read?
There is a great series of books called Graded Readers by Oxford University Press. You can pick a book suitable for your level that includes explanations of key vocabulary.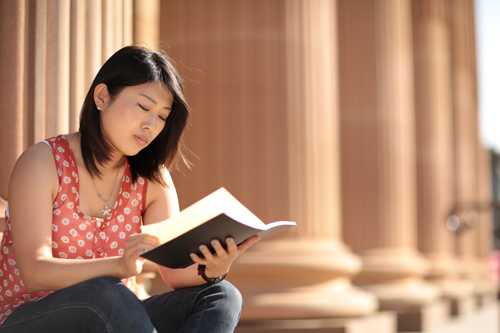 What if the book is difficult?
That's OK, if it was easy, you wouldn't be learning anything! Try to get a book that you can read without too much difficulty. If you find a word you don't know, FIRST try to guess the meaning from the context, try these steps:
Is it a noun, verb, adjective, adverb … etc?
If it's an adjective, is it positive or negative? What noun does it describe?
If it's a verb, do you think it's an action verb?
If it's a noun, is it related to a person? A situation?
If you can't guess the meaning, you can look in your dictionary – BUT don't look up more than one word every two pages.
What type of book should I buy?
Something that you think is INTERESTING!
Any topic is OK, it can be a fictional novel or a biography, as long as you want to read it
How long should I read for each day?
If you can read for 15 – 20 minutes each day, you will quickly notice a great improvement in your writing, spelling, punctuation and vocabulary.
The best thing? IT'S FREE!
Top books to get you started
The No 1 Ladies' Detective Agency by Alexander McCall Smith (read all the 14 books from this series and you'll be devastated when it comes to an end but have learnt a hell of a lot about Botswana)
The Harry Bosch series by Michael Connelly is sleazy American crime writing at its best. Start with The Black Echo.
The 39 Steps by John Buchan is said to be the best thriller ever written. It's an oldie (1915) so there will be some unusual vocab. But it's very short and you'll love it if you're into spies and war stuff.
If you're even the slightest bit interested in history or politics, you should read everything by Robert Harris. The Ghost is one of his biggest hits.
Bangkok Bob and The Missing Mormon is an easy, funny read by Stephen Leather.