OCCUPATIONAL ENGLISH TEST (OET)
Occupational English Test has been developed specifically for 12 healthcare professions: Dentistry, Dietetics, Medicine, Nursing, Occupational Therapy, Optometry, Pharmacy, Physiotherapy, Podiatry, Radiography, Speech Pathology, and Veterinary Science.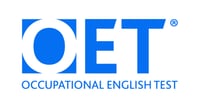 OET tests simulate real workplace tasks and test relevant language skills for each profession.
The exam tests all four English language skills - reading, writing, listening and speaking. During the listening test, we provide you with stat-of-the art headphones to use.
Key facts: Sub-tests
Listening


(40 minutes)

Part A - Consultation Extracts
Part B - Short Workplace Extracts
Part B - Presentation Extracts
Reading


(60 minutes)

Part A - Expeditious Reading Task
Part B & C - Careful Reading Tasks
Writing


(45 minutes)

Profession-specific Task
Speaking


(20 minutes)

Profession-specific Task - Role Plays
2023 Exam Dates
May: 13 and 27
June: 10 and 24
July: 8 and 22
August: 5 and 19
September: 2, 16 and 30
October: 14 and 28
November: 11
December: 2 and 16
You will receive a Statement of Results which shows your score for each of the four sub-tests, on a scale from 0 to 500. Each of the four sub-tests is assessed in a specific way.
For further information visit https://oet.com/test/after-the-test
Book your test in Melbourne