How do we build a strong house that won't crack or blow away in the wind? That's right! We need a strong foundation. The same goes for learning a language. Grammar books sometimes go straight into the tenses but it's the foundations that will help you to improve accuracy. Here are my top 5:
SUBJECT

-VERB-OBJECT or SUBJECT-TO BE-ADJECTIVE
In English, most 'active' sentences follow this structure. It is important to remember that after a full stop (.), the subject is repeated again.
e.g. I love chocolate. It is delicious.
e.g. Global warming is a serious environmental problem. Lately, it has been getting worse.


ARTICLES – A/AN, THE or – and PLURAL (noun + S)
Small, but powerful things! There are plenty of great websites (and teachers!) that can help you with these.
e.g. I bought dress yesterday. X
I bought a dress yesterday. √
e.g. The people often say that the technology is bad for us because it causes the addiction. X
- People often say that - technology is bad for us because it causes - addiction. √ *No articles here!
TO BE (am, is, are, was, were, has/have been, being, etc.)
There are fundamentally only 4 times we use the verb TO BE:
With adjectives – She is happy.
With jobs and existence- She is an artist. There are many schools in Melbourne.
With –ing (continuous verbs) – He is travelling now. They were sleeping yesterday.
With passive sentences- The letter was written by him = He wrote the letter (active).
BASE VERBS, INFINITIVE VERBS and GERUNDS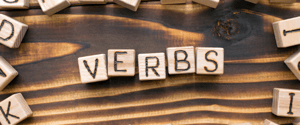 Don't panic! Here is a little summary:
Base – STUDY (a verb)
Infinitive- TO STUDY (a verb + to) *think of it as an intention
Gerund – STUDYING (an ex-verb + ing = a noun) *think of it as an activity

*With modals (should, must, can, etc.): I SHOULD STUDY (base)
*With some verbs: I NEED TO STUDY (infinitive)
*With other verbs: I ENJOY STUDYING (gerund)
*After prepositions (on, in, at, etc.): I am interested IN STUDYING (gerund)
*As a subject, e.g. STUDYING is recommended (gerund)


QUESTIONS, QUESTIONS, QUESTIONS
While there are different question types, the ones we ask most follow this structure:
QUESTION WORD- What, Why, When, How much, etc.

AUX

ILIARY or MODAL

SUBJECT

VERB, ADJECTIVE or NOUN- Refer back to foundation #3 for TO BE

…

What

did

you

have

for breakfast?

How much

were

your shoes (noun)

-

?

How much

did

your shoes

cost (verb)

?

- *yes/no questions

Does

he

live

here?
IMPORTANT- Don't forget the Auxiliary or Modal! (e.g. DO/DOES – present simple, CAN – ability, DID- past simple, etc.)
That's all for this time lovely readers. Take a deep breath, slow down and build yourself a strong foundation. All the best!
Stay connected to your classmates and upcoming events via Greenwich College Instagram account.