Instagram is one of the most popular forms of social media these days. Many of us spend too much time scrolling through our feeds to see what our friends and favourites are getting up to.
Do you ever feel like you're wasting your time but just can't get off the 'gram? Why don't you follow some accounts for English learners and enjoy your Instagram time guilt-free! Here are 8 accounts you should follow right now.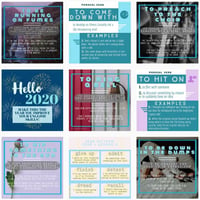 You might call me shameless, because I'm starting this list with my own Instagram account. I started the account last year, so it's still a baby compared to many of the others. My dad is my biggest 'fan' and he sends me daily Whatsapp messages telling me how many followers I have. My goal is to start making videos this year and I'm open to requests!
MAIN CONTENT: Vocabulary, grammar, and quizzes.
BEST FOR: Intermediate and above (especially students interested in the Cambridge English exams). ACCENT: Australian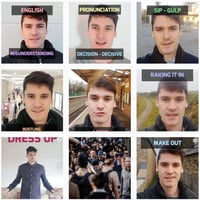 7. @papienglish
Sam posts short videos explaining English words and expressions. His posts are fun and colourful and he interacts with his followers in the comments.
MAIN CONTENT: Vocabulary
BEST FOR: Intermediate and above
ACCENT: British


This is one for all the Cambridge English students who will one day bravely face the Use of English paper. This account, which also has an app, gives you lists of word families and the opportunity to test yourself. It's not only useful for students taking the Cambridge exams but also for students who want to improve their speaking and writing accuracy.
MAIN CONTENT: Vocabulary and grammar.
BEST FOR: Intermediate – Advanced (FCE/CAE students)


Emma is a dedicated teacher with a degree in English Language and Linguistics. She posts regular videos explaining the pronunciation of words students often find tricky.
MAIN CONTENT: Pronunciation and vocabulary
BEST FOR: Anyone who wants to improve their pronunciation
ACCENT: British


Joe posts photos of himself that just make you want to smile, and he even gets his lovely family to 'guest star' on his account. I love his easy-going style, it's endearing.
MAIN CONTENT: Vocabulary quizzes, grammar, and listening
BEST FOR: All levels
ACCENT: Canadian


Phrasal verbs are so confusing, right? They're difficult to master, but if you want to reach a high level of English it's vitally important that you embrace the challenge and study them. This account is particularly good because it introduces the phrasal verbs by showing them in context (usually in a short clip from a film or series).
MAIN CONTENT: Phrasal verbs and set expressions
BEST FOR: All levels. ACCENT: A variety


I have to admit that even though I'm an English teacher, I listen to John's videos because I adore his accent. He also has a fun sense of humour and isn't afraid to voice his opinions. His posts and videos mainly focus on informal language and expressions, which I know you all love. Just don't put them in your formal writing tasks, okay?
MAIN CONTENT: Vocabulary and some pronunciation
BEST FOR: Pre-intermediate and above. ACCENT: Irish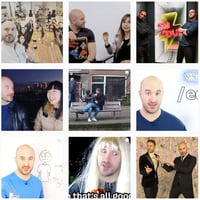 1. @papateachme
Aly is a hilarious and innovative teacher and content creator. His sketches, in which he acts as both characters, are a really fun way to learn English vocabulary and grammar. If my high school language teacher had been anything like Aly, I might still remember how to count to 10 in German.
MAIN CONTENT: A bit of everything
BEST FOR: All levels. ACCENT: British

Stay connected to your classmates and upcoming events via Greenwich College Instagram account.